EXTENDING DINING TABLES
SHOULD YOU GET ONE ?
Catering for the extended family or throwing a dinner party means you can pull out the tables ultimate party trick, the extension. They're ideal for adding a couple of extra people at each end meaning a 6 seater can instantly be transformed into a 10 seater and the table still looks beautiful. If you love to entertain and are limited in space for a permanent large table then see below how you can make one of our extendable dining tables work in your home.
HOW THEY WORK
We've designed our extendable dining tables to be strong, robust and to last a lifetime. Each extension is 50cm long and you can select the width to go with your dining table. The extensions slot effortlessly into one end of the table on two arms, making each extension piece 1m in length including the arms. When not in use, the extensions can be stored in a safe place in your home. We make the table tops in one whole piece so when the extension is in place you get a seamless flow of grain throughout the table top. It's really smart.
We fit catches to hold them in nice and snug and magnetic blocks to cover the holes when not in use.
You won't find extendable dining tables like these anywhere else.
SHOP ALL EXTENDABLE DINING TABLES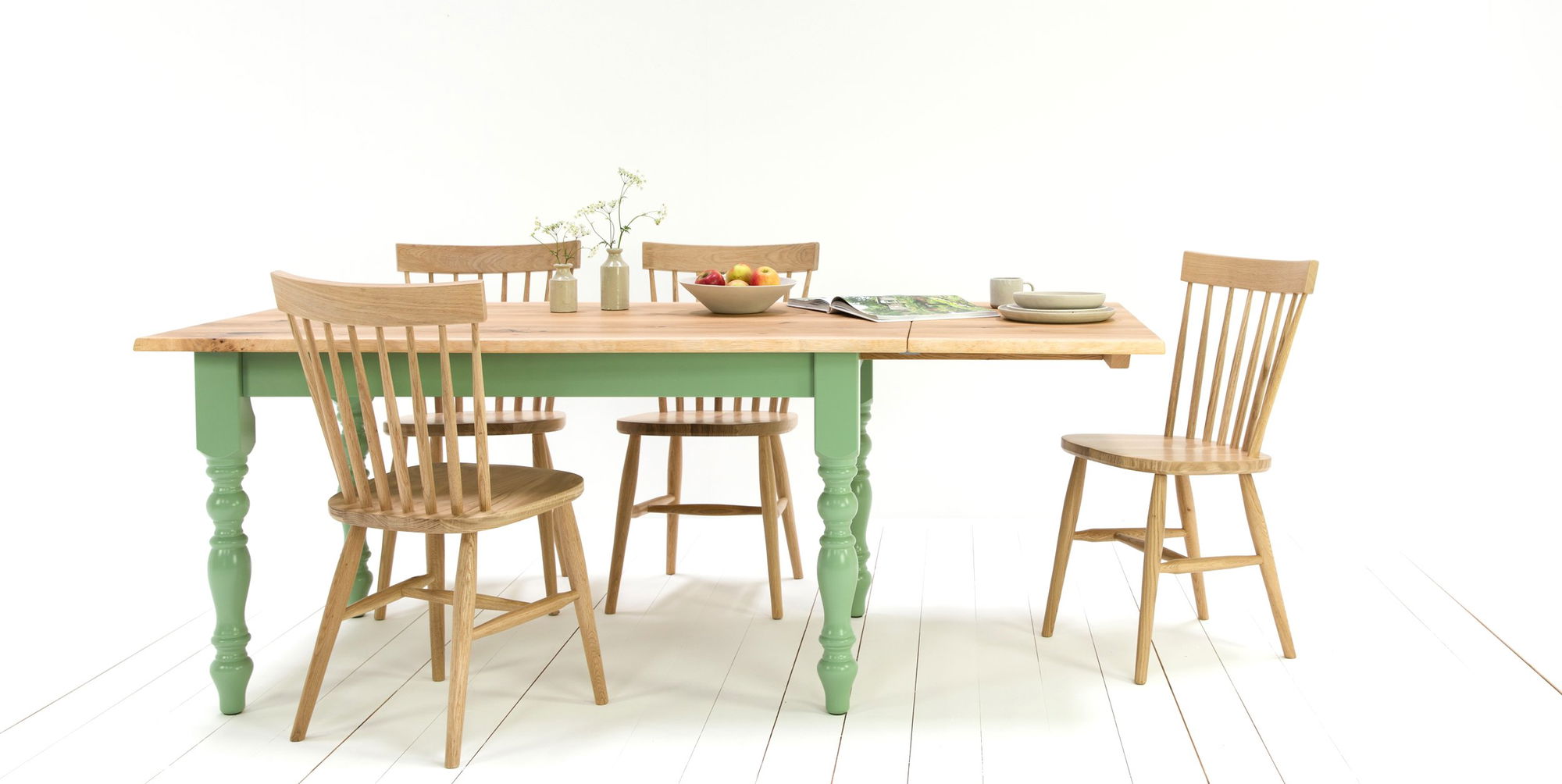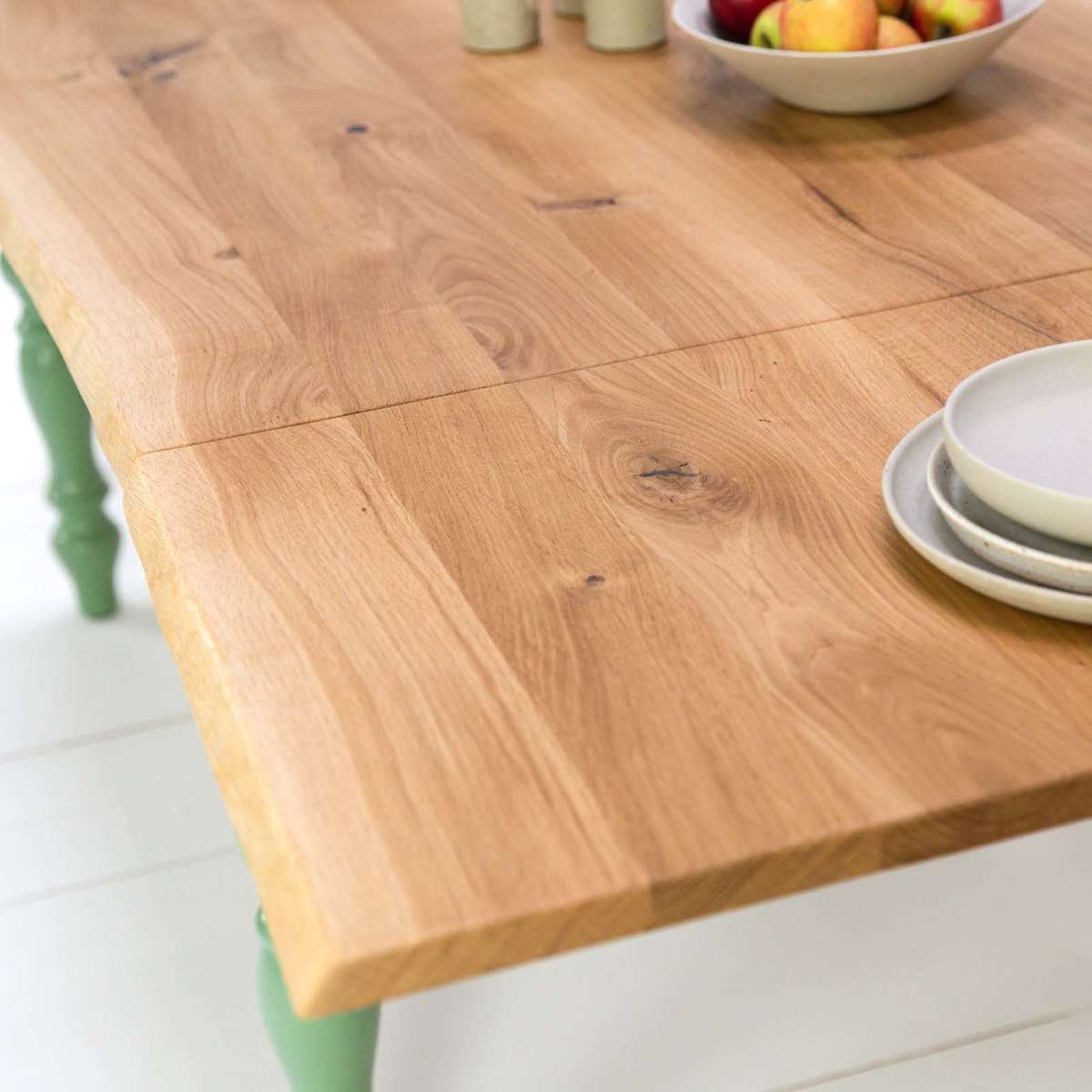 Continued flow of grain into the extension.
Works wonders with a waney edge.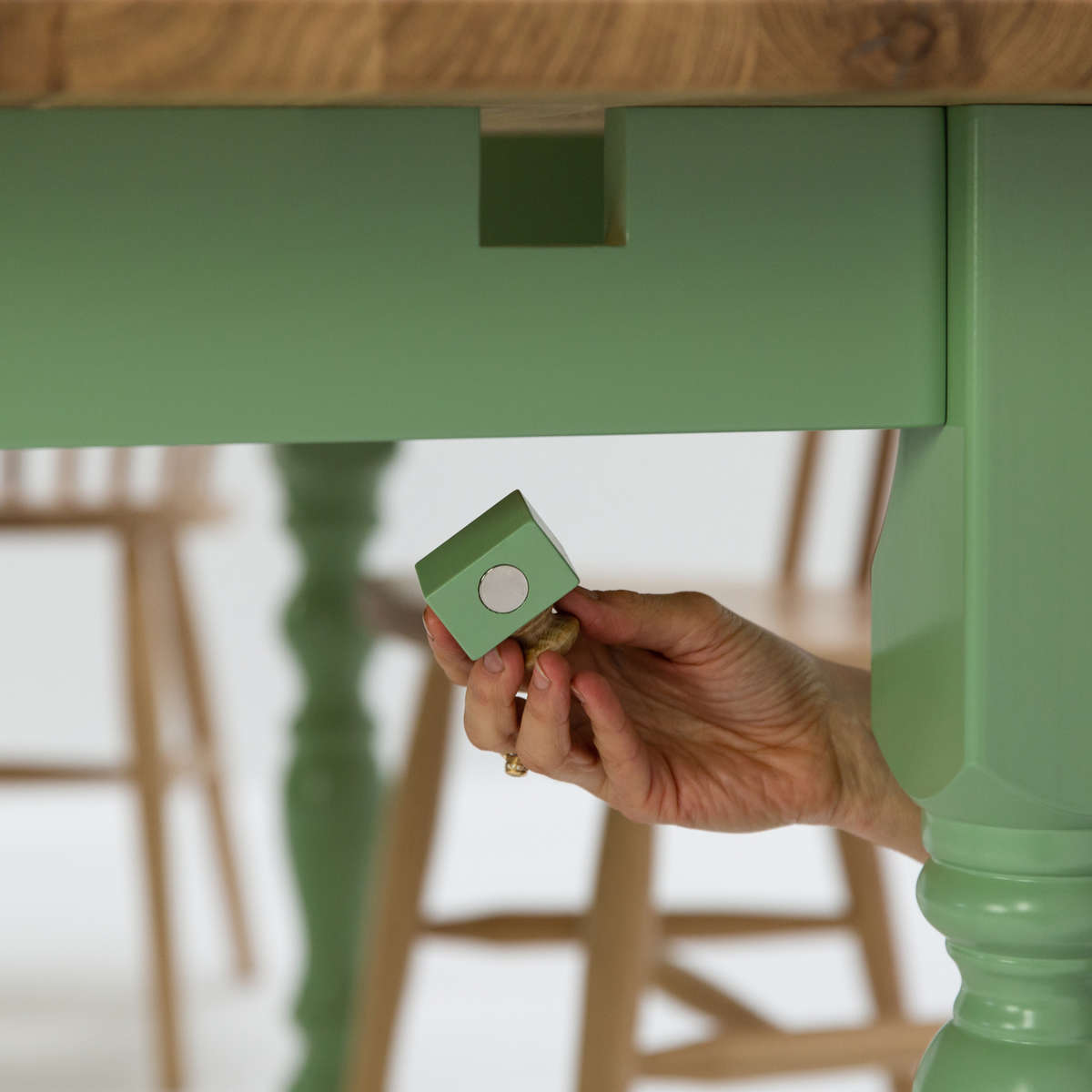 To fill the holes when the extensions are not in use. They snap in place or leave just on the fridge when extension is in use.
THE EXTENSION FROM BELOW
The finish and quality of the underside is just as important as the top. Nothing is compromised just because you don't see it. You will see it, in fact it will be the first view of the table when it arrives and is unpacked. First impressions count!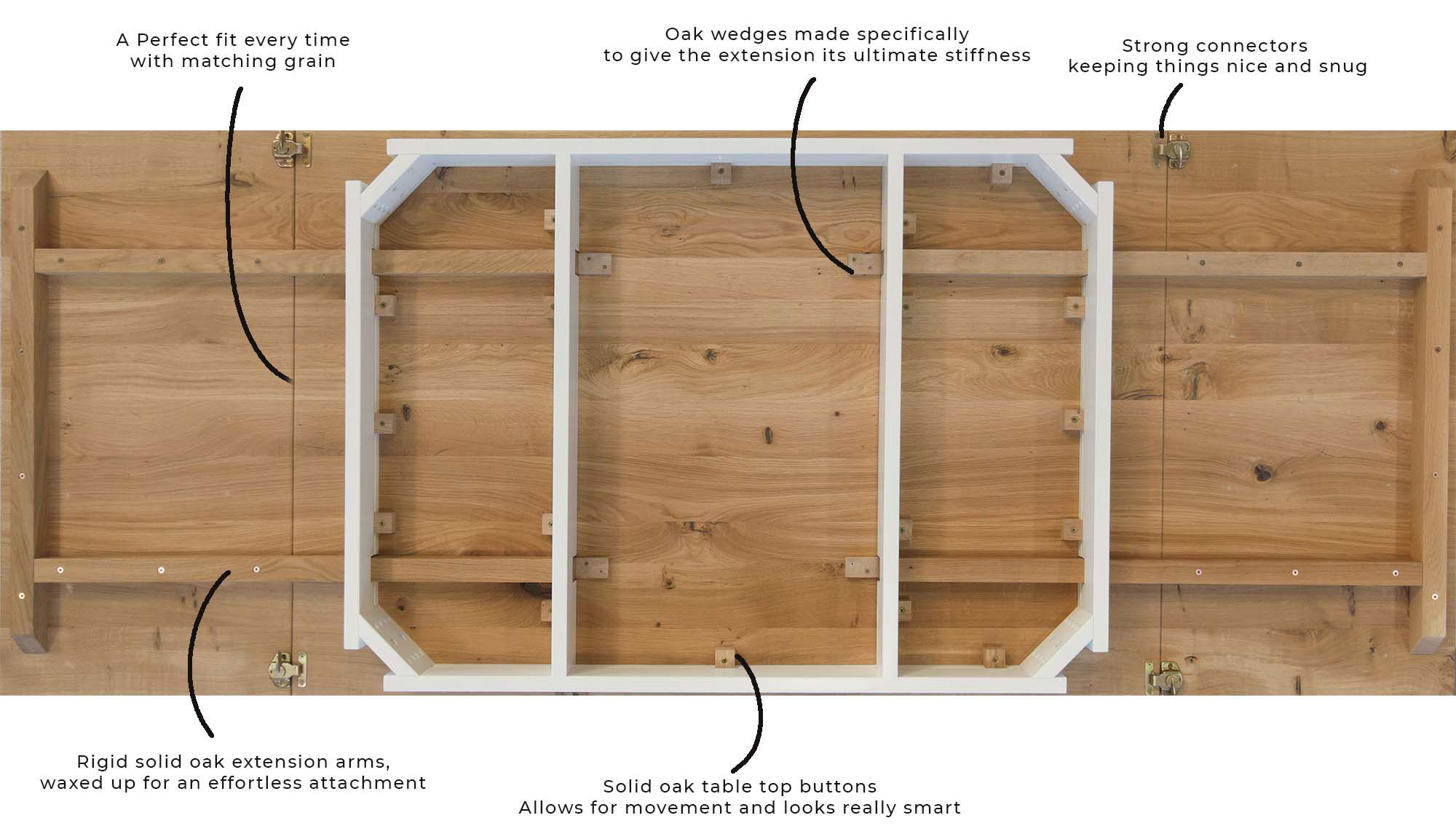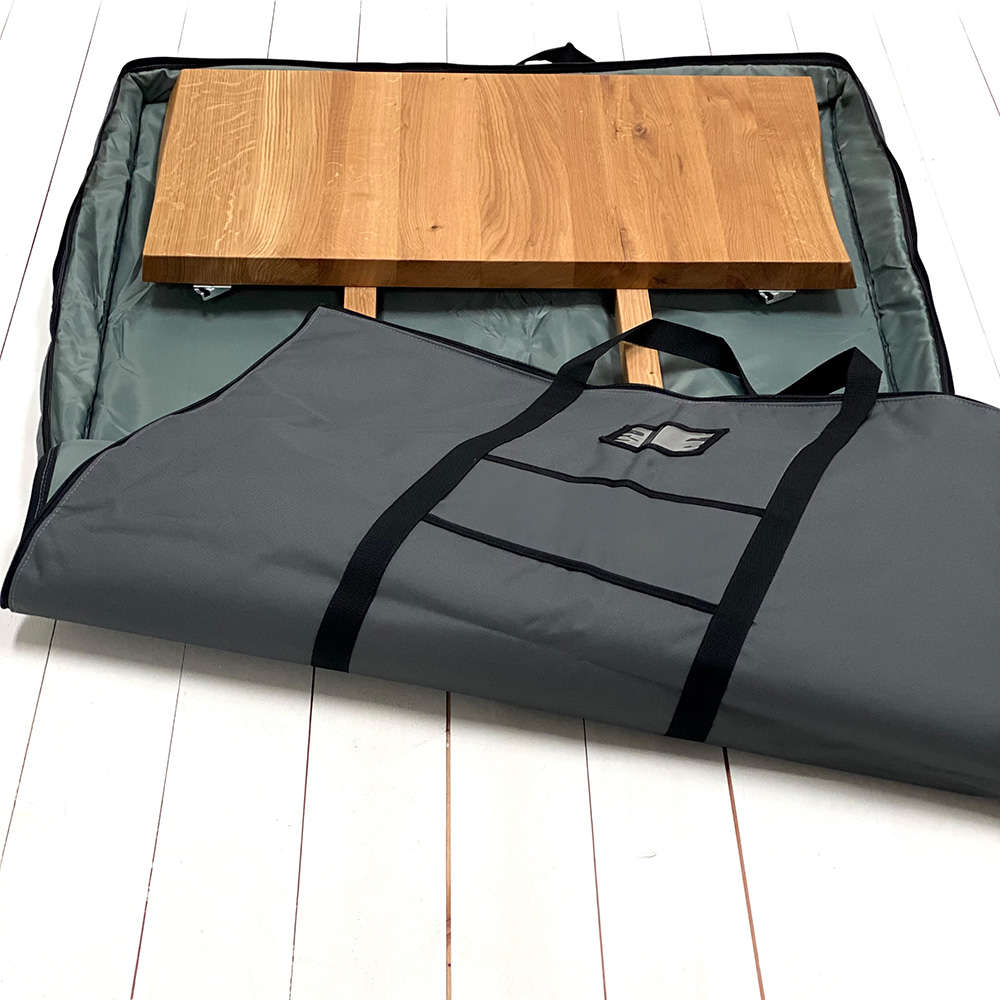 IT'S IN THE BAG
Don't let your extension get damaged under the stairs. Give it some TLC with one of our specially made breathable bags. Available to buy separately.
MAXIMISE YOUR SPACE AND ADD AN EXTENSION TO THESE DINING TABLES.
We've got you covered if you need a different size extending dining table
Here at Farmhouse HQ we take pride in being able to offer customers the ability to completely adjust any aspect of their table. Often, one of our standard dining table sizes are not quite right and therefore require an additional 10-20cm. Just let us know if you need something different and well be happy to help.
Changing the size of your table Extension
Our extensions are designed to fit an additional two people. We've made them 50cm long which we feel is just about right. Any bigger then the extension becomes a little tricky to handle and also if you have a small dining table, this may cause it to be un balanced if you had one extension fitted. We can of course go smaller.
Width matters when the table's extended.
If you're thinking of having a lot of people dining round the table and the extensions are going to be in frequent use then certainly look to go for the 1m width. This just gives you that little bit more room when you have one at the head, and two either side of the extension. It can become quite crowded if you have three large chaps all up at one end!